Washington DC's Leading
Coastal Advocacy Group

Connecting Coastal Communities, Congress, and the Corps of Engineers

A Voice for Coastal Communities

Since 1986, the experts at Warwick Group Consultants have helped businesses and governmental entities successfully navigate the complicated world of federal infrastructure programs and policies. From effectively communicating messages to policymakers and regulators in the Federal Government, to providing strategic advice on policy and funding trends, the Warwick Group works closely with its clients to meet their individual needs. Our focus is on applying our skills, knowledge, and contacts in support of the nation's coastal infrastructure – America's beaches, ports, navigable waterways, dams & levees, and utilities.
Warwick Group provides its clients with a variety of services including federal advocacy and governmental affairs, strategic counsel, tracking and monitoring of federal legislation and appropriations, Corps of Engineers Consulting, issue research, and comprehensive policy analysis. We deeply educate ourselves on our clients' problems and make them our own to provide strategic solutions. From our long history of working with coastal communities, businesses, and associations, we are intimately familiar with the dynamic nature of coastal environments and the needs and challenges that affect the future of our coastal communities. Warwick Group also produces a monthly podcast and e-newsletter, WaterLog, a podcast full of insight from Washington, DC about important news from Congress, the Corps of Engineers, coastal funding opportunities, coastal resilience, climate change and much more.
WaterLog is a podcast full of insight from Washington, DC about important news
from Congress, the Corps of Engineers, coastal funding opportunities, coastal resilience, climate change and much more.
Protecting America from Coastal Storms and Flooding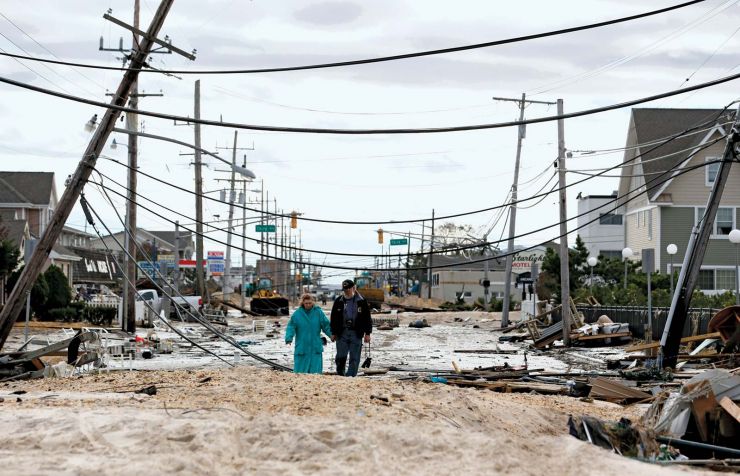 The next few years will see major changes for the nation's water resources infrastructure. Old locks and dams will have to be replaced; ports must be deepened and their landside facilities expanded to accommodate growing demand; inadequate dams and levees will need repairs; and intermodal transportation systems that connect coastal and inland ports will need to be developed. The current method of planning and managing these projects will have to be made more efficient through regionalization and other strategies. Additionally, inadequate amounts of federal money will need to be supplemented by alternative funding sources and models, including private investment.
After nearly 40 years of working with clients on issues related to their specific projects, Howard Marlowe established the Warwick Group to focus on the new national water resources policies and programs that are being discussed to meet the 21st Century challenges of economic competitiveness, sea level changes, water supply, and risks to environmental resources.
Corps of Engineers Consulting

Warwick Group excels in providing insight, strategy, and knowledge on Corps of Engineers projects, programs and policies. We've worked closely with the Corps for long enough to deserve a pension, but along the way we have earned the trust and recognition among friends and colleagues we've made over nearly 4 decades in business. In addition to the fundamentals and basic knowlege of the Corps and its processes, we track and analyze Corps directives, policy memorandums, implementation guidance on federal water resources legislation, and changes of personnel. We have solved problems big and small across the US and have helped save failing projects by providing the knowledge and experience to needed to work with Federal Government. Let us help you navigate the complicated world of federal beach and dune building, levees, coastal highways, dredging and other water resources infrastructure needs.
Our Track Record of Success
We've worked on behalf of over 150 local and state governments, associations, businesses, and nonprofits where we have developed a nationwide reputation as a leader in coastal advocacy. In addition, we've used our knowledge of coastal engineering and best management practices to protect our clients from major coastal storms and flooding events like Superstorm Sandy and Hurricanes Irma and Maria. We pride ourselves on working proactively to protect our clients against mother nature and coastal storms, but when disaster strikes, we go the distance to ensure our clients get the disaster relief funding they need to be resilient.

Current Clients:

Avalon, NJ | North Wildwood, NJ | New Jersey Coastal Coalition | North Myrtle Beach, SC | Myrtle Beach, SC | Garden City, SC | Surfside, SC | Horry County, SC | Tybee Island, GA | Solana Beach, CA | San Clemente, CA | UNCW Center for Marine Sciences | Waikiki, HI | CDM Smith | City of North Bend, OR | Plum Island, MA Patriot Point, MD | Long Beach Township, NJ | Cape May County, NJ
"You got to be in the water to catch the wave"